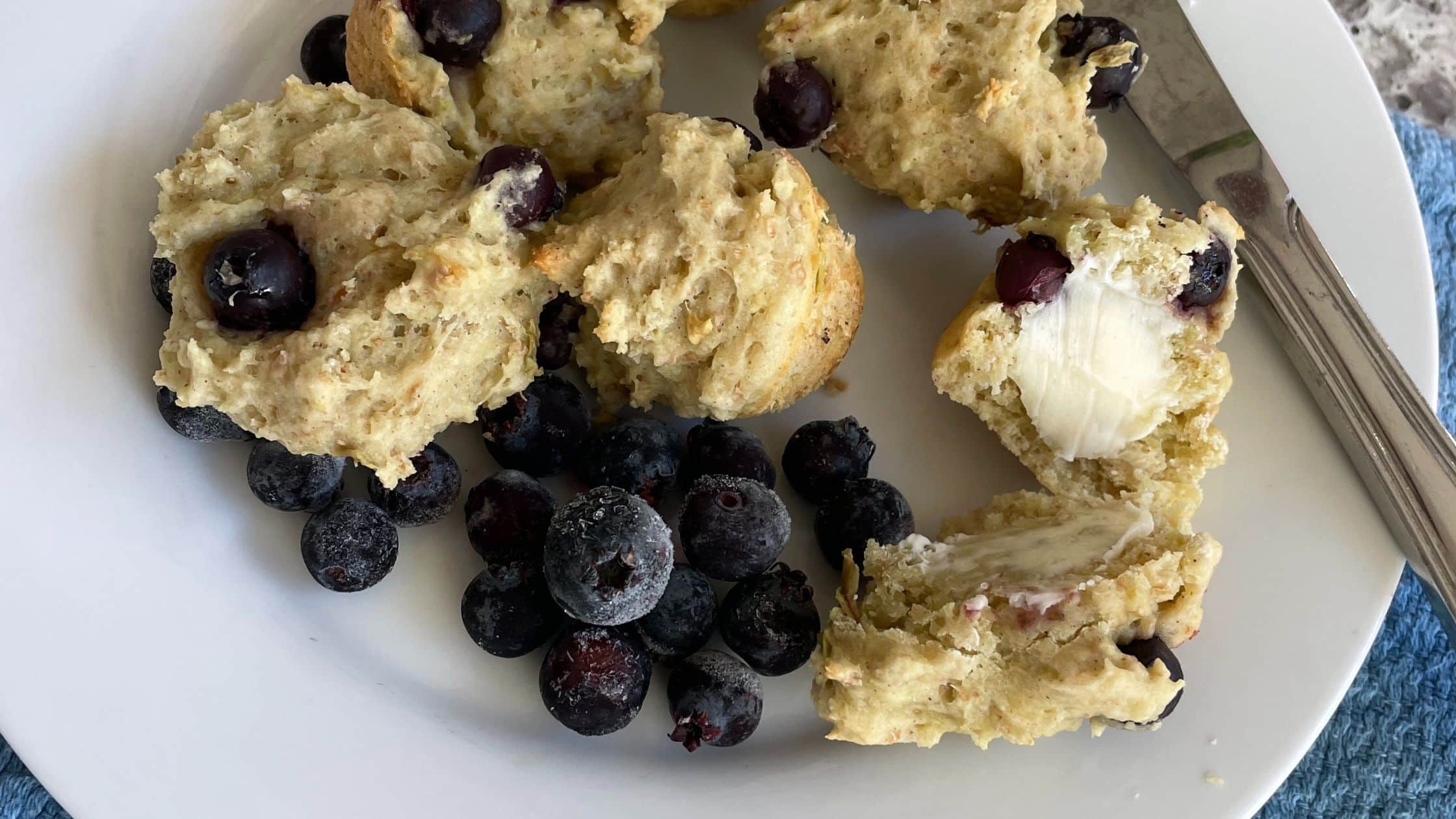 Delicious Iron-rich Avocado Blueberry Mini-Muffins for your baby

Looking for Baby-led Weaning ideas? Or recipes for your toddler or preschooler who may need a boost of iron?

These avocado blueberry mini-muffins are iron-rich and perfect to keep on hand in the freezer. They make a great snack or part of a breakfast for your little one.
About the Ingredients in these avocado blueberry muffins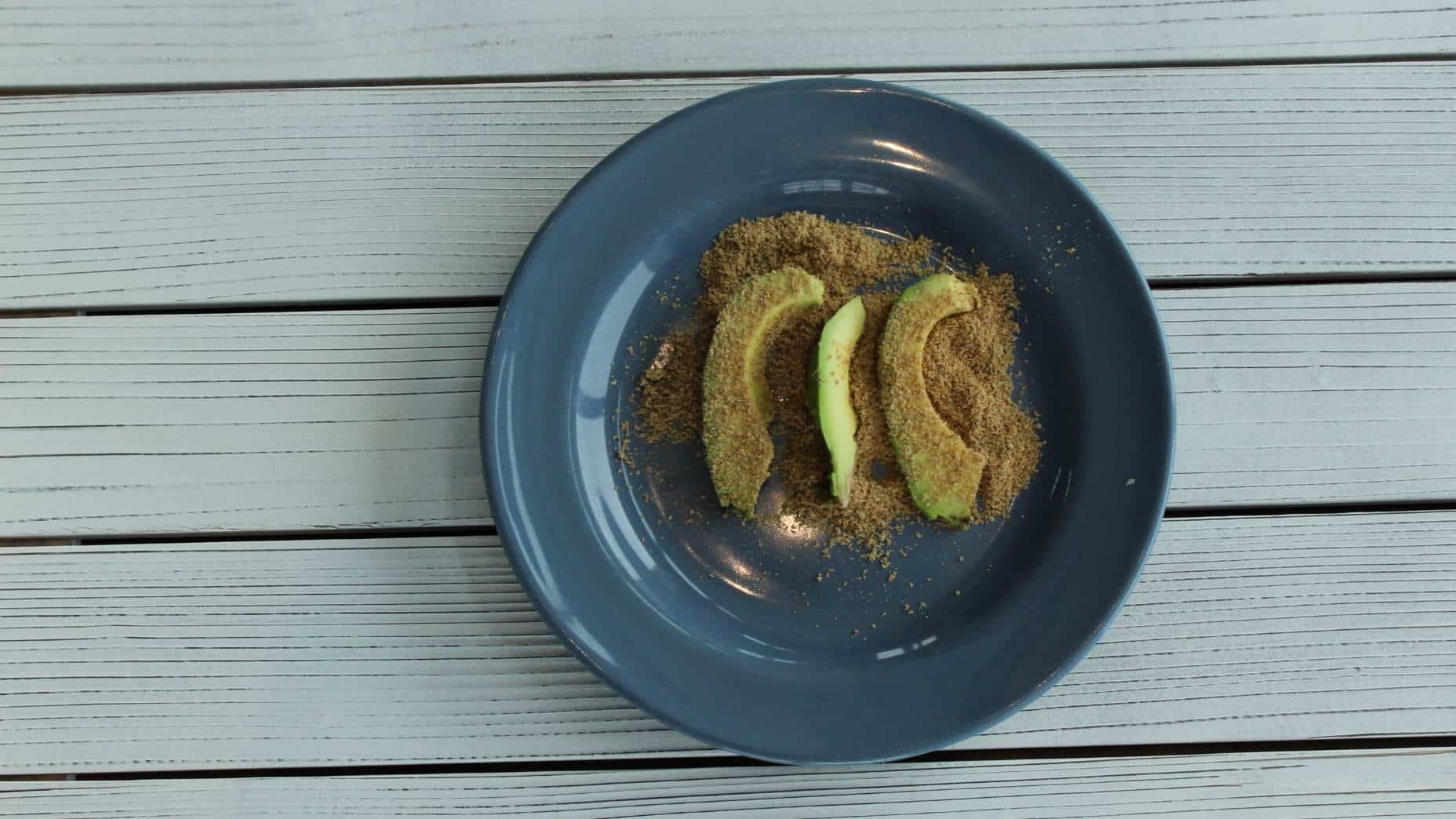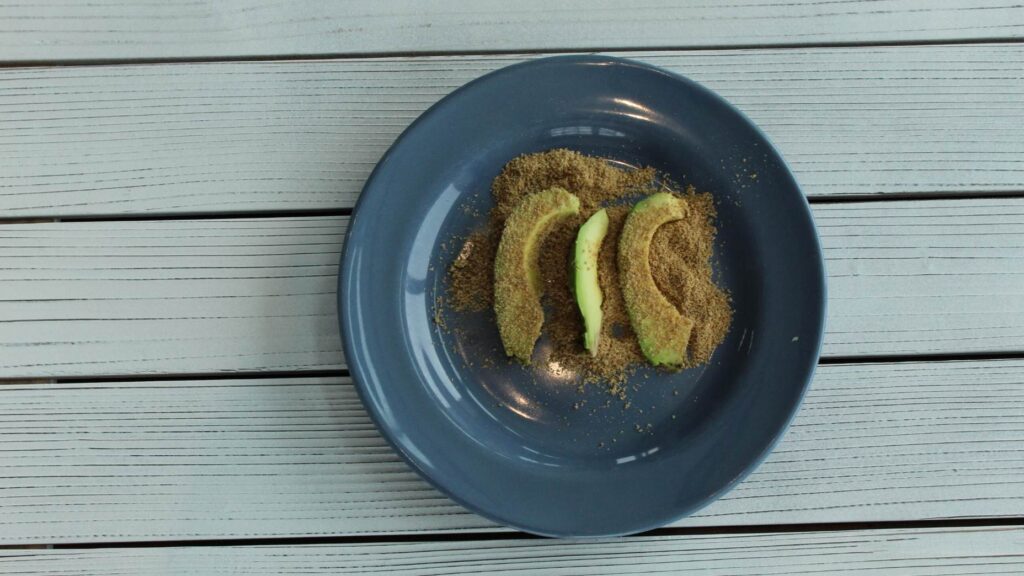 Avocado
Avocado isn't a normal muffin recipe addition. But it should be!
Avocados are super nutrient-dense. They provide extra healthy fats and calories your baby or toddler needs for growth and brain development. And add to a rich, moist texture.
Another favourite way to serve avocado for baby-led weaning is to slice it thinly and roll it in infant cereal or ground flax. It makes the avocado easier to less slippery. And provides the extra nutrition of iron (from infant cereal) or fibre and omega 3 (from ground flax).
Iron-fortified infant cereal
It's tough to reach iron needs for your baby or toddler. Substituting half of the flour in recipes like pancakes or muffins is an easy way to add a bit of iron to a an easy-to-eat, hand-held food.
Check out this post if you want the full details on the importance of iron for baby and how to get enough here.
You certainly don't have to feed your baby infant cereal for them to get iron. But if you want to practice baby-led weaning and still serve infant cereal, this is another idea besides offering a pre-loaded spoon.
If you don't have infant cereal or prefer not to use it you can substitute for extra flour (all-purpose or whole wheat).
Why is there sugar in a recipe for babies?
This one is controversial. First of all, it doesn't make the muffins healthier to substitute maple syrup or honey for the sugar. Like many "sugar-free" or "natural-sugar" recipes may claim.
If you want to substitute the sugar for date sugar, that's probably my favourite substitute. The muffins will come out a bit darker, as it's more similar to brown sugar vs white sugar. But date sugar is simply ground and dried dates, so does have some nutrition benefits.
But since these muffins are so nutrient-dense with blueberries, iron and avocado, I'm totally fine to add in a bit of sugar. It can make healthy food more palatable!
Yogurt
The mix of fat from avocado and yogurt in this recipe replaces butter or oil. And adding in full-fat plain yogurt will add some calcium to the muffins. And similar to the avocado, also provide some fat and a smooth texture.
Blueberries
Blueberries add colour, flavour and nutrition to these muffins. They're full of antioxidants and fibre.
Blueberries are easy to keep in the freezer year-round, even if they're not in season.
Normally frozen blueberries would be a choking hazard, so when serving to baby plain, be sure to defrost them. And even fresh blueberries that are larger and firm, should be squished, to avoid choking for your baby.
You could also substitute other berries. We have lots of saskatoon berry bushes at home, so my freezer is stocked throughout the winter. In any recipe that calls for blueberries, I substitute saskatoon berries. I think raspberries would be delicious too.
Why muffins are great for Baby-led Weaning
The idea behind baby-led weaning is that your baby can eat much of what you're eating! But if you're sending meals to daycare or if your meal isn't appropriate (i.e. too salty or spicy), then having some muffins on hand can help.
I like to make double batches and defrost as needed. This works great with any kind of muffin, from whole grain to egg muffins to mini meatloaf muffins.
Muffins are the perfect easy, soft hand-held item for baby to self-feed.
Serving Suggestions: Balanced Breakfasts for baby
These muffins contain grain, fruit and dairy, so they are fairly well balanced on their own!
But if you're serving these muffins as breakfast instead of a snack, I would add one other food alongside it for more variety. Try scrambled eggs, a slice of cheese or a strip of pear with a muffin.
Other recipes you'll love
If you're looking for more family and baby-led weaning recipes, check these out:
Salmon Fish Cakes Recipe for Baby
Sweet Potato & Quinoa Breakfast Tortilla
I also have hundreds of recipes in my books. The Parents' Guide to Baby-led Weaning and Babyfood in an Instant Pot (affiliate links).
Avocado Blueberry Mini Muffins
I've added a bit of fortified infant cereal to replace some flour for added iron, which is optional. With the extra iron plus the berries & avocado, these are a nutritious snack for you and your little ones!
Ingredients
1.5

cups

flour

½

cup

fortified infant cereal

or 1/2 cup extra flour

2

tsp

baking powder

½

tsp

baking soda

½

tsp

salt

1

avocado

ripe and peeled

½

cup

sugar

1

egg

1

tsp

vanilla extract

½

tsp

cinnamon

1

cup

plain yogurt

full fat

1

cup

blueberries

fresh or frozen
Instructions
Preheat oven to 375 degrees F and spray or line a mini muffin tin.

Combine flour, infant cereal, baking powder, baking soda, cinnamon and salt in a medium bowl.

In another large bowl, beat the ripe avocado. Add sugar and beat again. Add egg, vanilla, yogurt and vanilla and beat until well mixed.

Add flour mixture into wet mixture until just combined.

Spoon into muffin tins and bake for about 13 minutes until golden brown.
Notes
If you don't have a mini-muffin tin, use a regular muffin tin and add on about 10-15 mins to the cook time.
Want more baby-led weaning tips? Check out my Ultimate Guide to Baby-led Weaning blog.
Jennifer House is a Registered Dietitian, author & mom of 3. From Baby-led weaning to picky eating and meal planning, she helps you to make feeding your family easier.