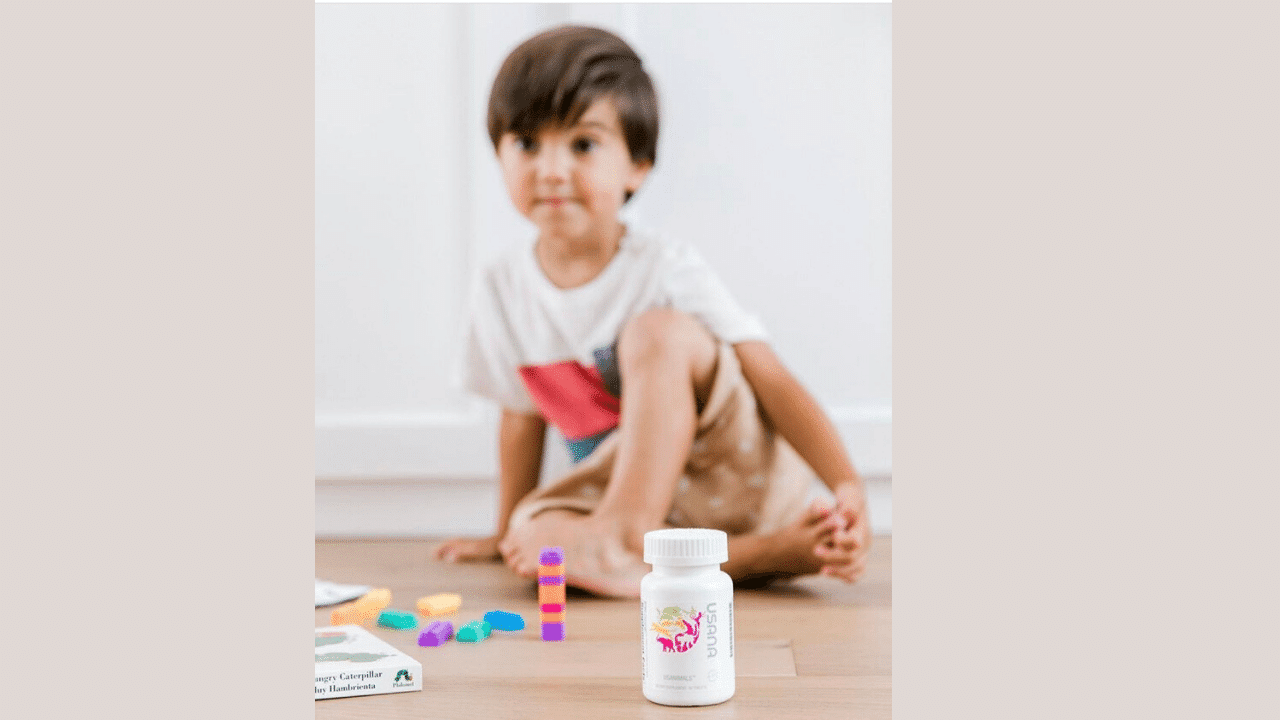 How to Select a Good Multivitamin for Your Child

This post may contain affiliate links which won't change your price but will share some commission.

Are you worried that your child isn't getting enough vitamins and minerals to grow their best? Or are they sick all the time and you want to strengthen their immune system? Then you're probably wondering if a supplement could help.

In this blog, I'll share some nutrients that can be low in children (especially picky eaters). And the best supplements to bridge the gap.
Do kids need a multivitamin?
No, not all children need a multivitamin.
One across-the-board recommendation is that all children (and adults) could use a Vitamin D supplement. At least in the winter here in Canada!
But if your kiddo eats a decently healthy diet, it likely provides all the nutrients they need at least over the course of a few days.
But what about those picky eaters who avoid many foods and sometimes even entire food groups? It usually's meat, which may put them at risk for low iron intake.
Or vegetables. But I don't usually worry too much about the lack of veggies. If your child eats fruit, the same nutrients are present in fruit and veggies. But that doesn't mean you should give up – I do have some tips for encouraging vegetable intake here.
Another potential concern would be if your child doesn't eat fish (lack of omega-3 DHA/EPA). Or avoids drinking milk or milk alternatives (potential calcium shortage).
For more information about how much of each specific nutrient of concern your child needs, check out this post.
And if you're worried your child isn't meeting the requirements, a Registered Dietitian can take a look at your child's food records and tell if you and where he or she is falling short.
A multivitamin isn't harmful though, whether your child really needs it or not. They supply small amounts of nutrients.
One of the main benefits of multivitamins is that they allow parents to relax a bit and feel less like they have to force their child to eat. Which never works; read more about why here.
How to select a good multivitamin for your child
That may depend on the food group your child avoids. Meat? Make sure your multivitamin has iron. It's hard for many kids to get enough iron, and their diet often falls low. Yet most multivitamins for kids don't contain iron (and the multivitamin gummies never do).
If your child is low in calcium, look for one with more calcium. And you may want to avoid the extra iron, which can inhibit calcium absorption. Or you may need to add in separate calcium or iron supplements if your child needs higher levels than a multi provides (under the recommendation of your dietitian, pharmacist or doctor).
I like to see a broad range of both vitamins and minerals in a supplement. This is often called a "broad spectrum" supplement.
And avoid the gummy vitamins. Not only do they stick to your child's teeth, but they're mostly gelatin and sugar. And contain very few actual vitamins and minerals.
You may also want to watch out for certain ingredients like artificial colourings and sweeteners.

Best multivitamins for kids
USANA Usanimals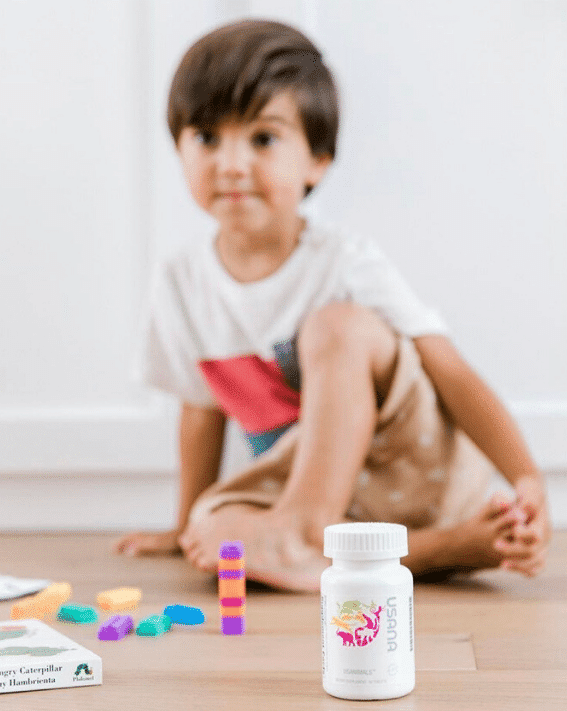 These supplements include 24 vitamins and minerals, which is more than most others.
Usanimals include nutrients like magnesium, zinc and biotin, which can be difficult to get enough of through the diet
Each tablet contains 2mg of iron and 500IU of Vitamin D. Instructions suggest 1-2 daily tablets for ages 2-12.
These supplements come in hard chewable form, in animal shapes. And are sweetened with sugar (fructose and cane syrup) and stevia.
You have to order these supplements online, click here for a 10% discount (affiliate link).
SISU Mini Vits
These supplements contain 21 vitamins and minerals, including 200 IU Vitamin D and 2mg iron per tablet.
Two tablets are recommended per day for ages four and up. Minivits are sweetened with stevia and sugar (fructose and dextrose).
I've found them in Superstore and natural food stores below, or you can grab them on Amazon.
Other supplements to consider:
Since COVID, I know we all have been eager to find supplements that "boost" the immune system. No supplement has been shown to do this.
But you can "support" a healthy immune system with a good diet. And perhaps certain supplements can help, such as probiotics an Vitamin D.
Probiotics: HMF fit for school
Each tablet contains 1000IU Vitamin D, 50mg Vitamin C and a blend of 4 probiotics in a hard chewable blackberry-flavoured tablet.
One study has been published to show that this supplement decreased Upper Respiratory Tract Infections in children by 33%.
These are a bit pricey to offer my three children every day. But I do give them occasionally when there's a bug going around. Or when we're about to go on vacation and I want to keep everyone healthy!
Vitamin D
Depending on the amount of Vitamin D in your child's other vitamins, you may or may not require an extra dose.
Currently, the recommended intake of children aged 1-10 years is 600 IU (some organizations believe it should be higher).
I've always found D-Drops easiest to give. And it doesn't have to be every day. A few drops every few days is fine, too!
Fish Oil
Most kids don't tend to love fish. If your child doesn't eat fish twice weekly, you might want to offer a fish oil supplement. 
The DHA and EPA omega-3 fats in fish can't be found in other sources of omega-3 fats (ALA) like walnuts, flax or canola oil. DHA is vital for brain development and can support optimal learning and behaviour.
Fish oil isn't a supplement that I offer daily, but occasionally, when I realize we haven't had much fish lately.
Nordic Naturals is one popular brand and comes in kid-friendly flavours like Strawberry.
Founder of First Step Nutrition | Registered Dietitian Nutritionist
Jen believes raising happy, well-nourished eaters who have a healthy relationship with food doesn't have to be a battle! She is an author and speaker with 18 years of experience specializing in family nutrition and helps parents teach their kids to try new foods without yelling, tricking, or bribing.