USANA CellSentials Supplement Review: Is it worth the money?

I've been approached by USANA reps in the past to check out their dietary supplement products and have always declined. Frankly, I've tried the MLM/Direct Sales/pyramid scheme/"business opportunity" sales methods and don't like the aggressive sales tactics.

Then I ran into a dietitian selling Usana nutritional supplements. And read her story about how her family has a healthy diet, but these multivitamin supplements increased their energy level.

I trust dietitians. I'm also a tired mom – and who doesn't want optimal health, more energy and mental clarity?! So I thought it couldn't hurt to finally try out and conduct a Usana supplement review for myself.
What are USANA CellSentials vitamins?
USANA Health Sciences has been in the direct sales market since 1992.
The Core Minerals & Vita-Antioxidant (used to be called Mega Antioxidant and Multimineral Plus, from what I can tell) is the USANA multivitamin mix.
It comes in 2 bottles. You take 2 pills from each bottle, twice a day. Here are my thoughts & review of Usana's nutritional products:
Pros of USANA Vitamins: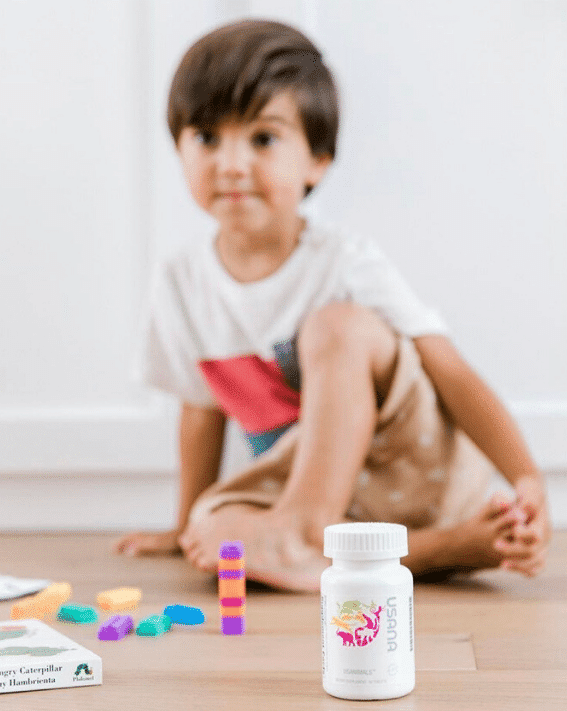 Consumerlab has a consumer satisfaction survey. Among Direct Selling brands, Usana is normally the winner. These supplements have a pretty good reputation, and many clients love them.
The USANA supplements contain 800 IU Vitamin D per day, which is higher than most multivitamins. That's a good thing. The dietary reference intake is 600 IU per day for adults. I generally recommend about 1000 IU per day for adults (at least in the winter) as it may be linked to the prevention of autoimmune disorders, cancer and osteoporosis. If you're not deficient, you likely wouldn't need an extra Vitamin D supplement if you're taking these Usana vitamins. So that's a plus.
The Mega Antioxidant supplement contains some unique herbal extract ingredients like olive fruit extract, green tea extract, olive fruit and lycopene. Hespereridin is a bioflavonoid from citrus that may be useful for brain health and cognitive function. And Resveratrol is an antioxidant made famous by red wine that might be useful for cardiovascular health. These supplements also contain some difficult to find, but essential nutrients like choline and lutein.
I like how USANA's advisory council consists of many PHDs and MDs. They have also published a lot of research and partnered with universities to publish many papers.
Cons of USANA Vitamins:
This "daily supplement" consists of 4 pills a day. You can potentially get a high dose of some nutrient levels. Such as calcium – a total of almost 900mg. Adults need about 1000 mg per day. If you get enough calcium through your diet, you don't need this amount from supplements. If you don't consume dairy or fortified alternatives, it may be helpful for strong bones.
I understand why there is no iron in the Multimineral Plus, so this is just a personal 'con.' Men don't need extra iron. But as a premenopausal woman, I do. Although I could add that as an additional mineral supplement.
Comsumerlab.com lists the costs of supplements, which is $1.82/day retail price for this Usana duo. As a comparison, Kirkland multivitamins were also approved. And cost 0.04 cents per day.
Eight pills a day is a lot to swallow. Although they aren't huge and don't get stuck in your throat like some others I've tried. But it's enough for most people to remember to take supplements once daily, much less twice.
My trial: A Dietitian's Usana supplement review:
I was fairly proud of myself for remembering to take these supplements daily twice daily for a month.
And for my energy levels? I felt they did slightly increase. Not enough to prevent me from wanting that afternoon nap, but maybe…..30% higher than normal, if I had to pick a number. Which I haven't experienced from a multivitamin before.
Why might this be? I don't think it's the B vitamins, as I can tell I peed most of those out (TMI?!). Maybe the green tea leaf extract?
I would continue to take this supplement as a multivitamin/mineral. Although I think the cost is prohibitive long-term for many people.
Have you tried these Usana supplements? What's your Usana supplement review!? * If you want to try out the CellSentials you can grab them here and get a 10% discount. (affiliate link)
Jennifer House is a Registered Dietitian, author & mom of 3. From Baby-led weaning to picky eating and meal planning, she helps you to make feeding your family easier