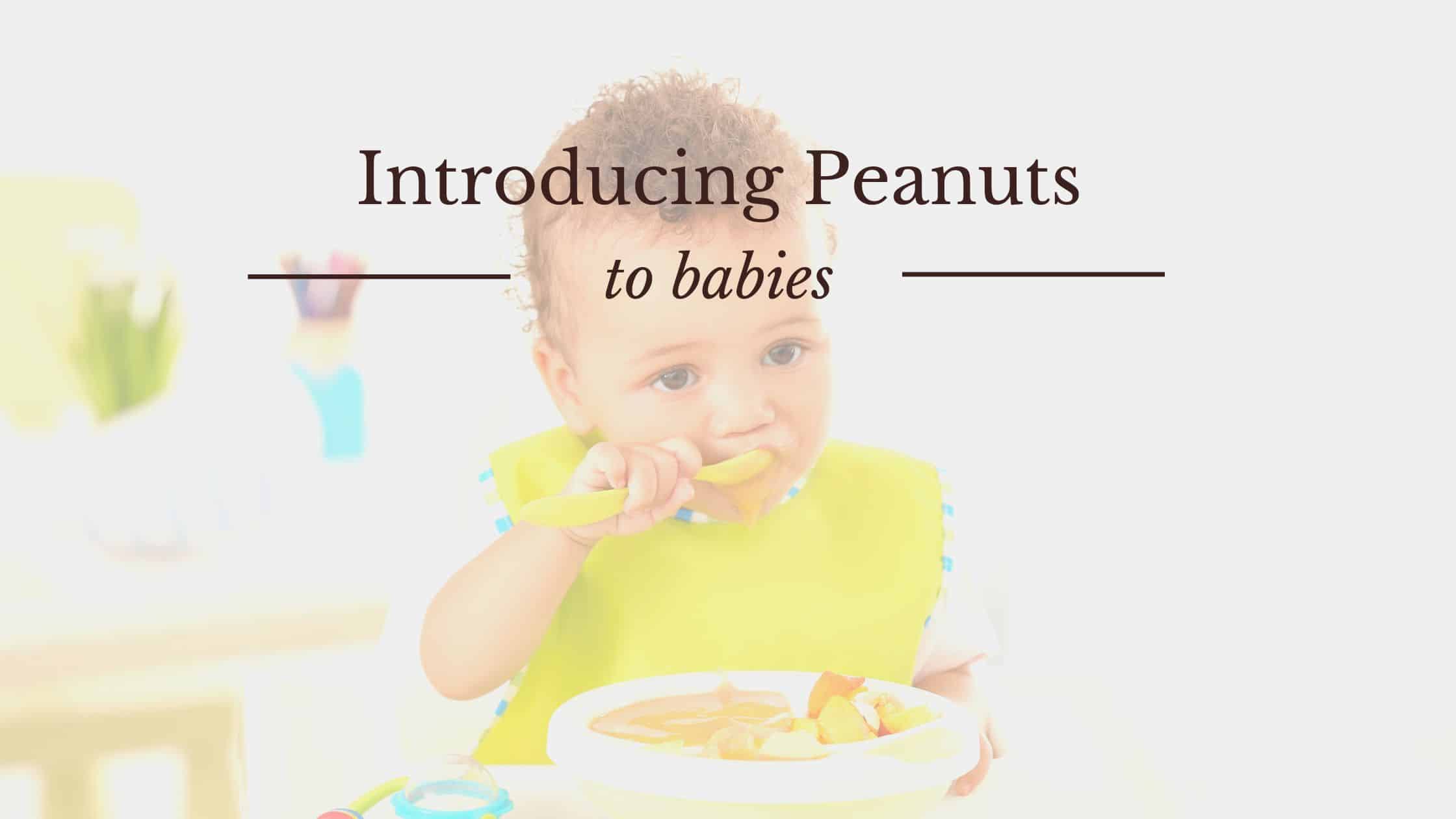 Introducing Peanuts to Babies: A Dietitian's Top Tips

When and how should you introduce peanuts to your baby when starting solids? In this post, our dietitian will clear up the fear and confusion surrounding peanut allergies & babies
---
Was your doctor adamant that introducing peanuts to babies at four months old is the best way to go? But your best friend warned you to wait until a year! And your health nurse is confident that six months is the best age…
Conflicting health advice is frustrating and confusing. Not everyone (including health professionals) knows the latest guidelines for introducing peanuts to babies. But after reading this blog – you will!
Are peanuts healthy for babies?
Yes! Peanuts, along with other tree nuts are a good source of protein, healthy fats and fibre. They also contain important vitamins and minerals, like Vitamin E, iron and magnesium.
While I wouldn't suggest peanuts be your baby's first food (bison is my favourite starter food pick)….they are a good addition to a nutritious diet shortly after starting solids.
Is your baby at risk for a peanut allergy?
There have been various ways to classify babies as low vs high risk for allergies in the past. Generally, if the child has a known allergy, they are at higher risk for other allergies. Or if they have a parent or sibling with an allergy, they may be at higher risk too.
For the purposes of peanut introduction, "low-risk babies" are defined as having mild or moderate eczema. If your baby has no eczema, I suppose they would also be considered no to low risk! And babies at high risk of peanut allergy have a known egg allergy, severe eczema or both.
When can babies eat peanuts?
The latest peanut introduction recommendations are from the National Institute of Allergy and Infectious Diseases.
For low-risk babies, start introducing peanuts when they are developmentally ready to start solids. This will be around six months of age for most babies. After introducing other first solids, you can offer peanuts for the first time within days to weeks.
And for babies at high risk of allergy, the baby should be allergy-tested for peanuts first. Peanut introduction at home or the doctor's office might be recommended if they have a mild allergy. If they have a more severe allergy, your allergist and pediatrician will give you individualized guidance (to avoid peanuts, most likely).
But there's a catch….one new guideline is for high-risk babies to start peanut protein "as early as four to six months." Where did this four-month guideline come from? First, let's share some history…
Peanut introduction recommendations have changed a lot. In 2000, the American Academy of Pediatrics and other health organizations said to wait until age three to introduce peanuts. Unfortunately, this led to skyrocketing allergy rates. Whoops.
Come 2008, and most professional health organizations started changing their stance to: "There's no benefit to delaying high-risk allergens beyond six months." A United Kingdom study instigated this change; it's called the Learning Early About Peanut (LEAP) Study.
The LEAP Study Explained
The authors in the United Kingdom (UK) began the LEAP study because kids in the UK had ten times the rate of peanut allergy compared to kids in Israel. One difference was that the UK recommended avoiding peanuts for the first few years of life. And in Israel, babies started eating peanuts at an average age of seven months. And the Israelites had basically zero peanut allergies.
The LEAP study authors split 640 babies at high-risk for peanut allergy into two groups.
Half didn't eat peanuts until they were five years old (the "avoidance" group.)
The other half ate peanuts starting early & often, starting between four to 11 months.
At the end of the study, 17.2% of the avoidance group had peanut allergies compared to 3.2% of the early group. This helped solidify the knowledge that introducing peanuts earlier can prevent allergies.
One caveat: if you look past the headlines and dig into this research, the average age of starting peanuts in the "early" group was 7.8 months. It wasn't four months. Or even six months. It was 7.8 months when the average participant started the study.
Could starting peanuts early be beneficial for high-risk babies before six months? I would argue that the current evidence doesn't show that. Yet. Maybe one day soon, it will. If you want to know more, check out my blog post: "Pros & Cons of Starting Solids at 4 months vs 6 months of age."
Even if you have a baby at high-risk, starting peanuts around six months still fits within "as early as four to six months." Unfortunately, many misleading news clips said to introduce allergens by six months. And for all babies (not just high-risk).
Introducing Peanuts to Babies
How do I feed peanuts to my baby?
There are multiple options for how to feed your baby peanuts. One important thing to know is to avoid feeding a plain spoon of peanut butter. It's too thick and is a choking hazard. If you're spoon-feeding purees, offer 2g of peanut protein via these options:
Melt 2 tsp of peanut butter for baby in 2-3 Tbsp hot water and let it cool. Mix in some infant cereal if they need a thicker mixture.
Mix 2 tsp peanut butter into 2-3 Tbsp of baby's regular purees – apple would be yummy!
Powdered peanut butter is another option. Sprinkle 2 tsp in a smoothie or mix into a puree.
Peanuts for baby-led weaning:
Peanut puree: Spread 2 tsp peanut butter thinly on a piece of toast.
Peanut puffs for baby: Offer 21 pieces of Bamba Puffs. They're like a puff snack made mostly with peanut protein (but expensive if you're in Canada!).
Peanut butter recipe for baby
This is a version of peanut butter cereal fingers from my book "The Parents' Guide to Baby-led Weaning" (affiliate link)
Peanut Butter Cereal Fingers
1/2 cup iron-fortified infant cereal or oats
1/2 cup natural peanut butter
1/2 cup whole cow's milk
Preheat to oven to 350°F. Grease or line a baking sheet with parchment paper
In a medium bowl, combine infant cereal, peanut butter and milk.
Place in tablespoon-sized blobs on a baking sheet. Form them into sticks about the same size as your finger by rolling the balls between your palms. Place on the cookie sheet and flatten down with your hands until about 1/2 inch (1cm) thick. Should make about 14 "fingers."
Bake for about 20 minutes, until the bottoms are lightly browned.
What does a peanut allergy look like?
Feeding baby peanuts for the first time strikes fear into many parents' hearts. After choking, it's the biggest concern I hear from moms when starting solids. Some parents go so far as to feed their baby peanuts in the emergency room parking lot! 
Thankfully, most childhood allergic reactions are just a rash. And the risk of a severe reaction the first time an allergen is introduced to a baby is very low.
Symptoms of a peanut allergy could look like this:
Swelling of the lips and face
Vomiting
Diarrhea
Wheezing or difficulty breathing
Sudden weakness or fatigue
Hives (if they're isolated around the mouth, this may also be simply a skin irritation)
How soon will a baby react to peanuts?
Allergic symptoms usually develop within minutes but can appear within two hours of eating the food. This is why it's a good idea not to feed babies a high-risk allergen and then put them right down to bed or for a nap. Keep an eye on them for a few hours.
What if my baby is allergic to peanuts?

You must be extra cautious when introducing other allergens and avoid exposure to peanut protein for your child. Double-checking food labels and ensuring all caregivers know about the allergy is super important.
If an allergic reaction occurs, don't feed antihistamines. You should keep an Epi-Pen at home and know how to use it. Here's a great guide on caring for children with allergies from Food Allergy Canada.
As for potential treatment, oral immunotherapy is not standard practice in Canada yet. But your allergist may have access to research trials for your child to participate in. 
The idea of oral immunotherapy with peanuts is that by exposing the child to small amounts of peanuts in a controlled and safe setting; they may decrease their sensitivity to the allergen. Which could possibly be life-saving!
How to prevent a peanut allergy
Introduce peanuts early: Don't wait until a year to introduce peanuts. Introducing them shortly after starting solids could promote tolerance.
Avoid introducing peanuts for the first time if your baby is sick. Their immune system may not be as strong as when they're healthy.
Feed peanuts regularly: continue to feed your baby peanuts two to three times a week. This might be even more important than an early introduction to preventing allergies.
Breastfeed: Breastfeeding can reduce the risk of eczema, a risk factor for developing food allergies. 
Starting other allergens:
It's not just peanuts your baby may be allergic to. The "big 8" allergens include peanuts, tree nuts, eggs, wheat, fish, shellfish, dairy, and soy.
And while you don't have to follow the old-school "wait three days before introducing a new food" to your baby – you CAN follow this rule with high-risk allergens. For example, if you introduce peanuts on a Monday, wait a few days to try dairy for the first time.
Here are some tips on introducing other high-risk allergenic foods.
Introducing Eggs to Baby
You can feed the yolk and white any time after six months. You don't have to offer them individually, but you can for a high-risk baby. It's possible to have an allergy to the white, not the yolk (or vice versa), as they contain different proteins.
If you're doing baby-led weaning, fry an egg and slice it into strips. Once your baby has a pincher grasp, you can offer smaller pieces of scrambled egg.
Introducing Dairy to Baby
Full-fat yogurt and cheese (bocconcini is my fave as it's soft and low-sodium) are fine at six months. Full-fat milk in cereals and smoothies or as an ingredient in a dish ok too. But wait to introduce full-fat milk as your baby's main source of milk until nine to 12 months. Because it's low in iron and other nutrients you find in breast milk or formula.
Introducing other allergens:
Wheat: pasta or toast
Soy: firm tofu strips or pureed edamame beans
Tree nuts: nut butter, similar to how you introduce peanuts
Fish: fresh salmon or canned no-sodium added salmon
Shellfish: oysters, clams or chopped/pureed shrimp
Summary: Introducing peanuts to babies
Feeding 2g of peanut protein (about 2 tsp) multiple times per week may prevent an allergy. For low-risk (or higher-risk babies who have been recommended to start peanuts at home), you can offer peanuts and other allergens shortly after starting solids around six months of age. 
So your doctor and friend may have been wrong, and you can thank that health nurse for offering you the best evidence-based advice 😉
Want more dietitian support to make starting solids fun & healthy?
Jennifer House is a Registered Dietitian, mom of 3 and owner of First Step Nutrition in Calgary, Canada. She believes that raising happy, well-nourished eaters who have a healthy relationship with food doesn't have to be a battle!