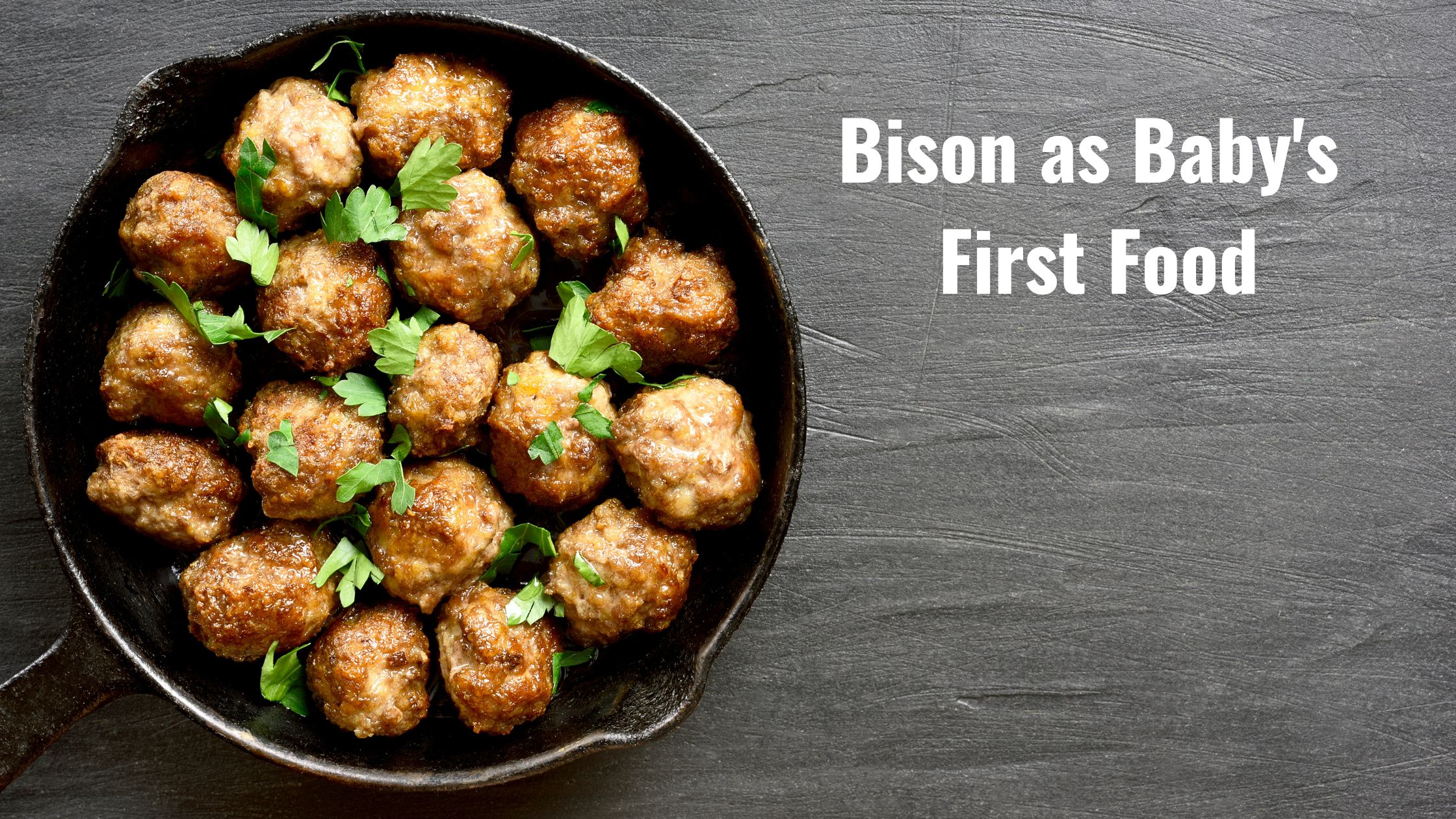 Baby-led Weaning & Meat: Why Bison is a Great First Food for Baby

I am happy to bring you this sponsored post today about bison as baby's first food, thanks to my friends at Noble Premium Bison. All thoughts are my own.

For years I have encouraged bison as a baby's first food when starting solids.

When my own daughter was starting solids at 6 months old, I made her a bison puree as her very first food. Turns out she refused all purees and was my forced introduction to finger foods and baby-led weaning. I should've made her some meatballs instead!

But yes, can introduce meat to babies. They can eat and digest meat from the introduction of solids at 6 months of age.

Below I'll share information about bison meat nutrition and how to offer it to your little one and family.
Bison Nutrition
Iron
Your baby needs lots of iron for mental and physical development. It's the most important nutrient for them to start getting from food around 6 months of age. Iron deficiency is a common problem among children. One out of 3 of my own kids was diagnosed with it at age 4, and I still believe it's why she's significantly shorter than the rest of our family. Anemia can lead to irreversible physical and mental effects, like delayed attention and social withdrawal.
Where do I see parents often going wrong when starting solids? It's common just to offer fruits and vegetables. And while nutritious, they don't have enough calories or nutrients to be your baby's main source of solid food. Read this for more info on Baby-led weaning and iron.
So in contrast to a common quote: food before 1 is not just for fun. It's important to offer nutrient-dense foods from the start.
Back to iron. By 6 or 7 months, your baby's stores from before birth will run out, so it's important to offer iron-rich food twice per day.  In North America, the recommended intake of iron is 11 mg per day from 7 to 12 months of age . It decreases to 7mg for ages 1 to 3 years.
But the 11mg may be inflated if you're offering your baby more easily absorbed heme iron in meat.
The 11mg per day recommendation was calculated using an absorption rate of 10% which is from non-heme food (fortified & plant) sources of iron. Yet heme iron from meat is absorbed 2x that of non-heme iron. According to studies, red meat offered to toddlers does increase iron stores And bison is the best food source of iron. It contains 3.42mg of iron per 100g of meat. Beef, in comparison, contains 2.99mg and chicken breast contains about 1mg of iron per 100g of meat.
Zinc
Another really important nutrient with health benefits for young children found in bison is zinc.
 Zinc deficiency worldwide is estimated at 31%, with rates higher in developing countries but also common in developed countries. So it's something to consider too.  Zinc is needed for the maintenance and development of immune cells. And zinc deficiency increases the risk of infection Zinc is also needed for normal growth and development. Getting enough zinc has been shown to improve growth in infants. And an increase in red meat in toddlers has been shown to lead to higher zinc levels in the child's blood.
The best food source of zinc is meat. The good thing is if you focus on high-iron foods, they are usually a good source of zinc too.
ZIP Factor
While most of us get enough protein, it is also crucial for growth and immunity. 100g of cooked bison contains 22g of protein.
Bison's "ZIP factor" of containing zinc, iron as well as being a source of protein is the perfect combination for building a strong immune system!
Infant Cereal vs Meat as a starter baby food
Infant cereal is a common starter food in North America. This is because iron is added to the cereal.
A research study with 88 babies compared pureed beef vs iron-fortified infant cereal as the first baby food. Zinc and iron status were measured at 9 months of age and growth was measured until 12 months.
Results showed that the average zinc intake in the meat group was 1.9mg per day and 0.6mg per day in the cereal group (only 25% of the requirements). And the increase in head circumference between 7 to 12 months was greater for the meat group. Both zinc and protein intakes were predictors of head growth.
So you certainly can include fortified infant cereal into your baby's diet as a source of non-heme iron. But if you're not a vegetarian family, think about adding in some red meat as well. It's an excellent source of nutrients that your baby needs to grow well.
How to serve bison to your family
Meatloaf, meat sauce or meatballs are a great way to serve ground meat for babies and your whole family. Ground bison is nice and tender and even a beginning baby will be able to chew it.
I also like to use a pressure cooker or slow cooker to cook a roast. Shred the meat and offer your baby small pieces to chew on.
Below I'll share a bison puree and baby burger recipe to try out at home:
Yes, you can make your own meat puree for your baby! I usually choose ground meat, as it's already tender and easy to blend.
Bison Puree
Boil meat or use a pressure cooker to cook it. This adds more moisture vs drying it out when baking or frying.
Strain the meat out of the water and add it to your food processor or blender.
For liquid, I like to add breastmilk or formula. It adds more nutrition than water and also offers a bit of a familiar taste for your baby. The more liquid you add, the thinner the puree will be. So start slow and add more as needed.
Use an ice cube tray or small baby cubes to freeze the puree in. Label and date it.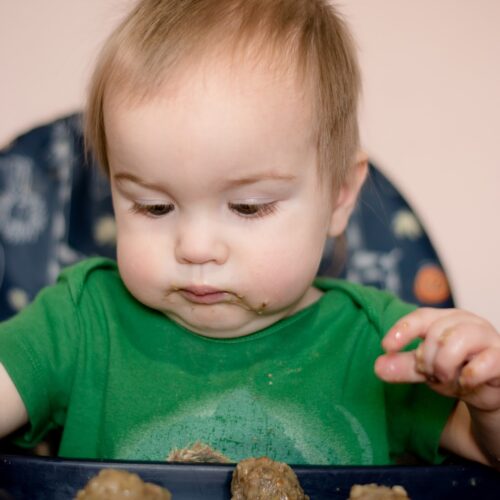 Easy Baby Bison Burger Recipe
Freeze extra meatballs or baby "burgers" and pull one out when you're having a lower iron day for family foods, to give your baby the extra nutrient boost.
These also make good "sliders" for an adult appetizer!
Ingredients
1

lb

ground bison

1

cup

grated cheese
Instructions
Roll into balls and place on a cookie sheet lined with tinfoil

Mash them a bit to make "burger" shapes, if desired

Bake at 350ºF/175ºC for 20 minutes or until meat thermometer measures 170ºF/77ºC
Notes
Bison is lower in fat than beef and therefore cooks quicker. Don't overcook or it will be dry. The cheese in this recipe compensates by adding some extra fat
Modification: You can also add in some spices like Italian spice mix or garlic powder.
Where to buy bison
It's been difficult to find bison in the past, you usually had to head to a farmer's market.
That's why I was so excited to see a variety of Noble Premium Bison products in my local Sobeys! Their 100% Canadian Bison are ranch-raised on natural grassland without added hormones or antibiotics.
Check out their website for more information about bison, where to buy it and recipes like Bibimbap Bison Power Bowl and Bison Carnitas Tacos!