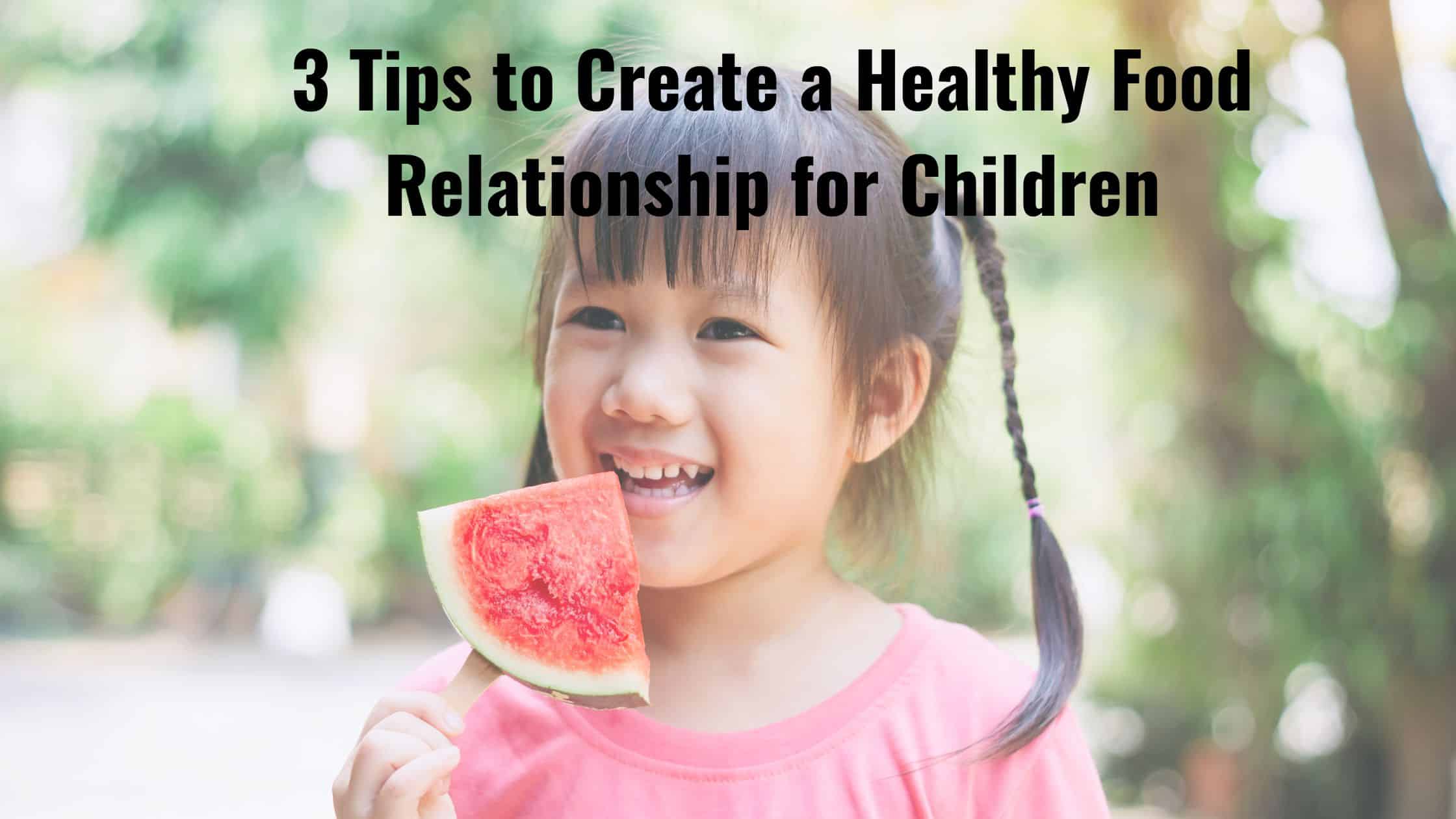 3 Tips to create a healthy food relationship for children

Happy Valentine's Day! Speaking of love…….does food = love for you?

Often food is often equated with love. And this can be a beautiful relationship!
Think of a breastfeeding baby, learning that their food comes along with their mother's loving touch and cuddles.
Or eating at a romantic restaurant on a first date.
Or your mom's chicken noodle soup when you're sick.
These are all fantastic ways to love food! But learning to equate food with love is not always a good thing. It causes some of us to turn to food for comfort when we're depressed or lonely. This can result in overeating and guilt.
As a parent, we hope to raise kids who have a healthy relationship with food. This will help prevent picky eating in young kids, disordered eating and struggles with weight later on.
While your kids need nutrients to grow – it's just as important that you as a parent help them to establish a healthy emotional relationship with food too. We don't want to train our kids to run to food for comfort. Or reward themselves after a hard day (probably most days!) with cake.
How do we do help our kids to have a healthy emotional relationship with food?
Here are 3 tips to help your child grow up to have a healthy food relationship:
1) Let your child choose how much to eat
Pressuring kids to eat more food just makes them eat less. And conversely, pressuring them to eat less, causes them to eat more. Trust your child's own judgement of their own appetite and follow the Division of Responsibility in Feeding. Not only will it allow your child to continue listening to their appetite as they grow, but it will make mealtimes far more peaceful!
2) Don't reward or bribe with food
It's a common tactic to reward your child with dessert for finishing their vegetables or dinner. But what this is really telling your child is that they must eat the "yucky" food before they get the more desirable sweet! It puts the dessert on a pedestal and may create a sweet tooth for life.
So those Valentine's day chocolates your kids brought home from school? Don't save them for a bribe once dinner is eaten. Check out Ellyn Satter's post dealing with "forbidden foods."
3) Don't console with food
How often have you offered your child a candy or cookie when they are hurt or crying? While it's a good distraction and temporarily makes them happy, it's not a good long-term solution. Essentially, it's training your child to seek food as comfort, instead of dealing with their problems in a more productive way.
One way to show love this Valentine's Day is to spend time in the kitchen, letting our kiddos help out. While it's definitely more work to involve a little sous-chef, not only will this make them more willing to try new foods now, but it's an important life skill!
My favourite kid-friendly Valentine's dinner to make with my family is heart-shaped pizzas! Roll out the dough, do your best to make a heart shape, and everyone can add their own toppings.