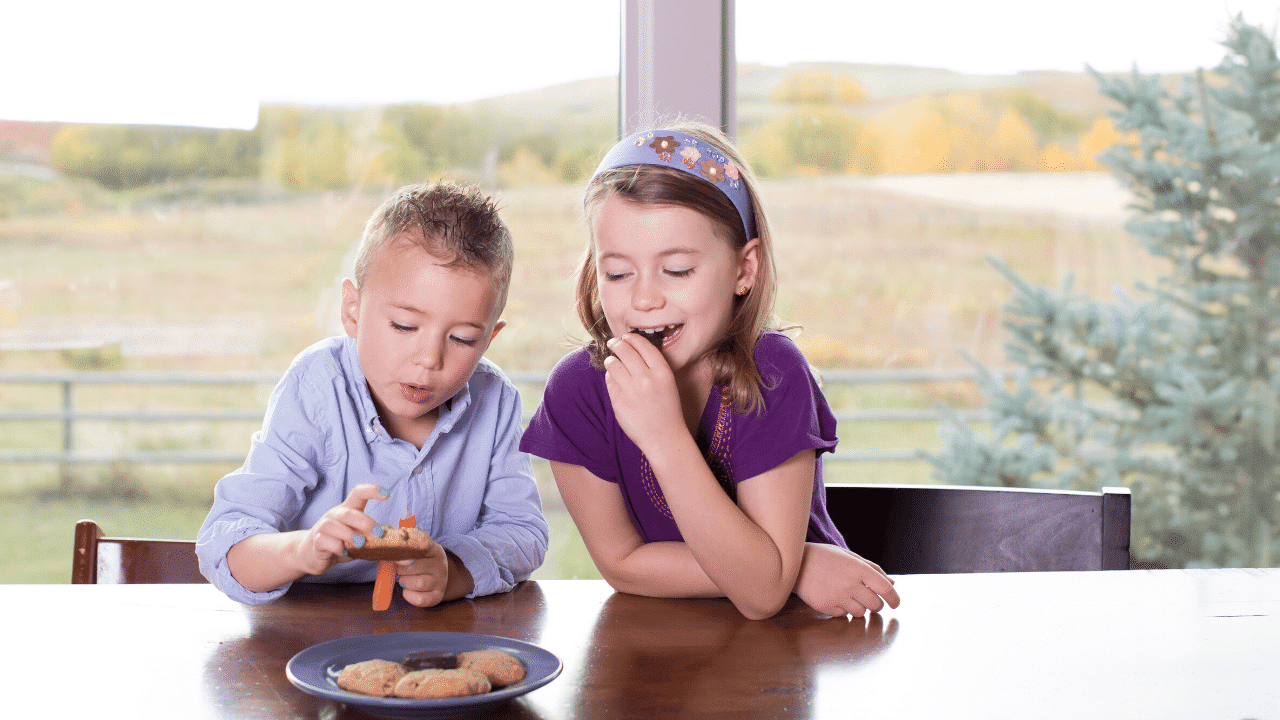 Snack Ideas for Kids: 3 Recipes

Snack time! Feeding kids seems like a never-ending chore. Meal-snack-meal-snack-snack-meal-snack-bed and repeat…

Keep snacks simple, and think of offering two food groups. Here are a few simple ideas for you if you've run out of snack ideas:
Balanced Snack Ideas
1) Peanut butter on crackers
2) Boiled egg and fruit
3) Berries and yogurt
4) Fruit smoothie
5) Veggies and hummus dip
6) Energy balls with nuts and fruit (see recipe below)
Below I'll share some of my favourite snack recipes. Of course, if you have the patience, I'll encourage you to get your kids to help. Mom's mental sanity always comes first!
Prune Energy Balls
These prune energy balls taste like chocolate and are an easy, balanced snack. Give them a try!
Ingredients
3/4

cup

almonds or walnuts

or a mixture

1

cup

prunes

dates could work too

1/4

cup

chia seeds

2

tbsp

cocoa powder

2

tbsp

smooth nut butter

coconut oil

to blend

1/3

cup

shredded coconut
Instructions
Place nuts in a bowl of a food processor with a knife blade and blitz for 10 seconds.

Add prunes, chia, cocoa and nut butter and blend until smooth.

Add a small amount of coconut oil, a few drops at a time, until the mixture is sticky, and holds its shape when you roll a small amount between your fingers.

Take a tablespoon (15mL) of the mixture and roll into a ball. Continue creating balls until the mixture is all gone.

Place the coconut onto a small plate and roll balls into the coconut, to coat.

Place balls in an air-tight container in the fridge. They will keep for up to a week.
Cosmic Cookies
Originally inspired by Planet Organic, I've modified this recipe and they are my favourite cookies! 
Ingredients
2.25

cup

quick oats

2

cups

whole wheat flour

1

cup

sunflower seeds

3/4

cup

chopped walnuts

1/2

cup

shredded coconut

unsweetened

1/4

cup

ground flax seed

1

cup

sugar

1

tbsp

cinnamon

2

tsp

salt

1.75

cup

dark chocolate chips

1.25

cup

raisins

1/4

cup

water

1/4

cup

blackstrap molasses

3/4

cup

canola oil

1

cup

milk
Instructions
Line two baking trays with parchment paper or silipads.

Combine dry ingredients: from oats to raisins.

Combine wet ingredients: from water to milk.

Stir dry and wet together until just combined.

Portion cookie dough into the desired size and gently flatten.

Bake for 24 minutes (will depend on size of cookie) or until lightly browned.
Notes
Sub the walnuts for extra seeds, if you're sending them in a  nut-free lunch box.
Oatmeal Apricot Bran Muffins
This recipe comes from my Great Aunt Joan. I often encourage clients to bake healthy muffins and cookies to have on hand for snacks. This recipe is high in fibre and contains no white flour.
Ingredients
1/2

cup

wheat bran

1/2

cup

boiling water

1.5

cups

whole wheat flour

1

cup

quick oats

1/3

cup

wheat germ

1

tsp

baking soda

1/4

tsp

salt

1/2

cup

brown sugar

1

egg

1

cup

buttermilk

or 1 cup milk with 1 Tbsp vinegar or lemon juice

1/3

cup

canola oil

1

cup

chopped dried apricots
Instructions
preheat oven to 375 degrees F

In a small bowl, stir together wheat bran and boiling water; set aside.

In a med bowl, whisk together brown sugar, egg, buttermilk and oil until blended. Pour over flour mixture, along with bran mixture, and stir until just combined. Fold in apricots.

Divide batter evenly among prepared muffin cups. Bake in the oven preheated to 375 oven for 16-18 mins or until done.
And one more snack recipe for you!
Chocolate Chip Chickpea Cookies
Jennifer House is a Registered Dietitian, author & mom of 3. From Baby-led weaning to picky eating and meal planning, she helps you to make feeding your family easier
Founder of First Step Nutrition | Registered Dietitian Nutritionist
Jen believes raising happy, well-nourished eaters who have a healthy relationship with food doesn't have to be a battle! She is an author and speaker with 18 years of experience specializing in family nutrition and helps parents teach their kids to try new foods without yelling, tricking, or bribing.