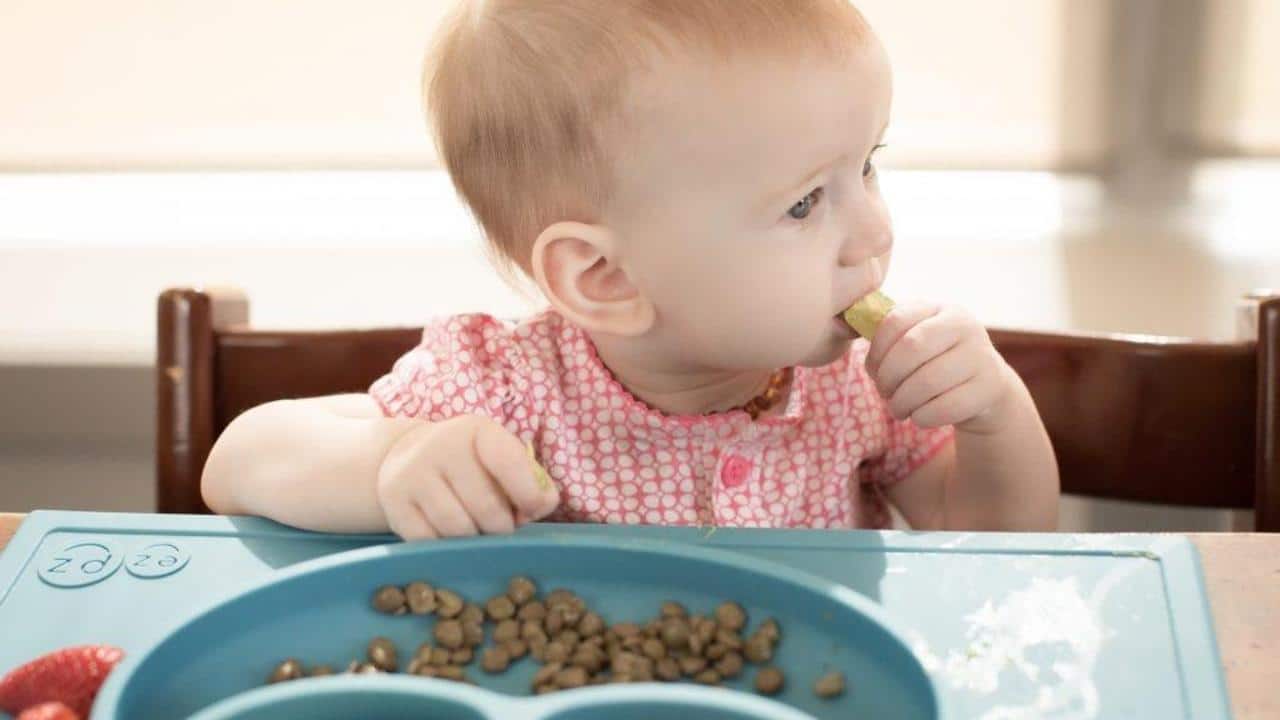 6 Things to Do and 5 Things to Avoid with Baby-led Weaning

There are lots of questions floating around the internet about the "do's and don'ts" of baby-led weaning (BLW).
Can you start with purees and switch to baby-led weaning?
Is it ok to mix purees and finger foods?
When is my baby ready to start BLW?
What are the best baby-led weaning foods to start with? How do you serve BLW food and in what shape?
Can my baby have added sugars, salt, eggs, peanuts?
What about Baby-led Feeding and choking?!
  It can be so overwhelming!   Here are a few feeding tips to answer some of these Baby-led Weaning FAQs. For more in-depth info and 125 babyled weaning recipes, check out my baby-led weaning book " The Parents' Guide to Baby-led Weaning."
Baby-led Weaning To-Do's
1) Timing is important:
Don't rush into introducing complementary foods. But don't wait too long either! Wait until your baby has enough motor skills and can sit on their own, with support. They need enough neck and trunk strength to get food to their mouth, without needing arms for balance. But they don't have to be able to sit on their own for 1 minute, 3 minutes etc before starting solids. If you wait much past 6 months of age, your child might be at higher risk for iron deficiency. An interest in food is another sign of readiness, but not enough of a reason to start solids. And all major health organizations are recommending 6 months as the average best age to start. For more about when to start Baby-led Weaning, read here.
2) Prevent choking: consider texture & shape of foods:
While babies can eat a lot of different foods (those gums are strong – teeth or no teeth!), don't expect them to chew through a steak. Offer your little one soft finger foods like ground meats, eggs & steamed fruits and veggies. Also, avoid pieces of food that are round or could get caught in your baby's windpipe. While baby-led weaners have not been shown to be more likely to choke, we want to prevent choking no matter how starting solids. And know how to treat it, in the unlikely case your baby does choke. Check into local or online infant CPR courses (affiliate link), to give you more confidence if you're afraid baby will choke.
Here are some more tips to prevent choking with BLW.
3) Be ready to clean up a mess:
Feeding your baby is messy, no matter which feeding method you choose for starting solid foods! Squishing and playing with food is a part of the learning process and it's ok.
You can place a hard plastic computer mat (my fave, easy to wipe!) or a plastic tablecloth under your baby's high chair for easy clean-up of the baby-led weaning mess. For more on my fave tools including the best baby-led weaning spoons and cups.
4) Make sure food is nutrient-rich:
As your baby will only be taking in small amounts of food, it's important that the food is nutrient-rich. Try including foods that are sources of iron, zinc and healthy fats.
For example, beans and legumes make great finger food or scrambled eggs and pieces of fish. Slow-cooked ribs or strips of meat that are very tender or ground meat like meatballs offer great iron-rich foods – the most important nutrient for your baby to get from solids.
For more tips on iron-rich foods for BLW, check this post out.
5) Dine with baby:
Eat with your baby. This is one of the benefits of BLW – you don't have to spoon-feed purees your baby while your own food gets cold!
Let your child see how you eat and what you eat (a variety of foods). They will learn from your demonstration and copy you! It's also safer to eat with your baby, as if they are choking they don't make any sound. And there are many benefits of family meals, so it's a great habit to have right from the start.
6) Know breastmilk is still the most important
Don't just focus on solid foods. Keep in mind, that the bulk of your baby's nutrition still comes from breast milk or formula. Start with 2 meals of solids per day. Move up to 3 meals around 9 months.
And continue breastfeeding as long as both you and baby (or toddler/child!) like.
Baby-led Weaning Don'ts  
1) Don't over-feed your baby:
Milk is still your baby's main source of nutrition, so offer just 2 meals a day to begin. Work up to 3 meals around 9 months and meals + snacks (which sometimes may still be milk!) at 12 months.
Also, don't 'top up' your baby with purees or encourage them to eat more than they want. They know their own appetite, and it will go up and down! I like to start Ellyn Satter's Division of Responsibility (DOR) in Feeding right from the start. Baby (or child) is always responsible for how much they eat (of the foods you offer them). This will may prevent picky eaters and mealtime battles in the future. For more info on the DOR, read here.
2) Don't force your baby into one method of feeding:
Be truly "baby-led." If the baby isn't taking to finger foods after a few days or weeks, it's ok to offer pureed food as well. While this isn't true "Baby-led Weaning" and more conventional feeding, that's ok!
Canada's Nutrition for Healthy Term Infants recommends finger foods (+ purees) from the start, which is why this is considered "conventional" feeding. There's no real "mix" of puree and BLW in terms of researcher definitions, but labels don't matter. Your baby won't get confused. Just make sure to continue to offer finger foods for practice. And be sure to watch baby's signals when spoon-feeding, to make sure you are practicing Responsive Feeding and not over-feeding baby.
3) Don't worry about how much your baby takes in at first:
The first few days, weeks and sometimes months are mostly a learning process for some babies. They may seem more interested in mashing the food than eating it. They are likely getting in more than you think (has their poop changed?! That's one sign!). And don't compare your baby to your friend's baby. Every baby is unique!
If your baby is still not eating solids by 9-10 months, I would recommend asking your doctor for an iron test, and perhaps a referral to an occupational therapist who specializes in feeding assessment, just to be sure.
4) Don't give your baby a full apple and walk away
Be cautious of the size and textures of food you're are offering your baby to avoid choking hazards. And always watch your baby while they eat, or you won't be able to help them if they choke. While research shows baby-led weaners are not more likely to choke more often than infants who started solids the standard way – choking is still something to be cautious about.
And a survey found that full apples were the #1 things Baby-led Weaners choked on. Instead, peel and slice the apple thinly (use a mandolin if you have one) and steam to start.
5) Don't offer only fruits and veggies
Normal baby-led weaning starter foods most parents give seem to be fruits and vegetables. And these are nutritious foods we usually strive to get more of!
But they do not have the calories, fat or iron that baby needs to be their sole source of nutrition from solids.
Baby needs to eat a variety of healthy foods, just like you. Make sure to choose a source of iron at each meal, like legumes, eggs, fish, chicken or beef.
Want to learn more about making starting solids fun, safe and healthy with Baby-led Weaning? Register for my free webinar "How to Get Started with Babyled Weaning"
Jennifer House is a Registered Dietitian, author & mom of 3. From Baby-led weaning to picky eating and meal planning, she helps you to make feeding your family easier